Above, southern Sweden, with its plethora of lakes, is visible in this west-looking photograph. The lakes were created when the continental glaciers scoured this area and then receded, allowing the countless depressions to fill with water. In addition to numerous smaller lakes that are generally aligned in a north-south orientation, two large lakes, larger Lake Vänern and Lake Vättern, can be seen toward the northern edge of the photograph. The dark green area inland from the coast is forested lands. A small part of the Baltic Sea is pictured off the southeast coast of Sweden, and the Skagerrak and Kattegat, the waterway entrance into the Baltic Sea, are shown off the southwest coast of Sweden. The four main landforms of Denmark (viewing west to east), a peninsula (Jylland) and three islands (Fyn, Sjelland, and Lolland), can also be seen along the southern edge of the photograph (NASA - April 1984).
The Bosphorus, Istanbul, Turkey Spring/Summer 1996 (NASA). One of the world's strategic waterways, the Bosphorus can be seen in this west-looking view. The Bosphorus, which means "ox-ford", connects the Black Sea (top right) with the Sea of Marmara (bottom left). It also separates European Turkey (upper left) from Asiatic Turkey (bottom right). Structurally, the Bosporus is an inundated valley following an irregular northeast-southwest course, 29 km long, widths varying from a little over 4 km at its northern mouth to 730 m at Rumeli Hisari, midway along the strait. Although the current flows from north to south, there is a strong subsurface counter current, and numerous points and coves that set up whirls and eddies that make navigation of the strait dangerous to the inexperienced.
At the Bosphorus' southern end is located one of the great historic cities in the world, Istanbul, formerly known as the city of Constantinople. Istanbul is the chief city, seaport, and tourist resort of Turkey as well a commercial and financial center. The European part of Istanbul is the terminus of an international rail service formerly called the Orient Express. In 1973, the European and Asian sections of Istanbul were linked by the opening of the Bosphorus Suspension Bridge, (1074 m long), which is discernible near the center of the image. Also discernible on the image just to the south of Istanbul anchored in the Sea of Marmara are large merchant ships (white-looking dots).
The Fountain of Life, Vigeland Park, in Oslo, Norway.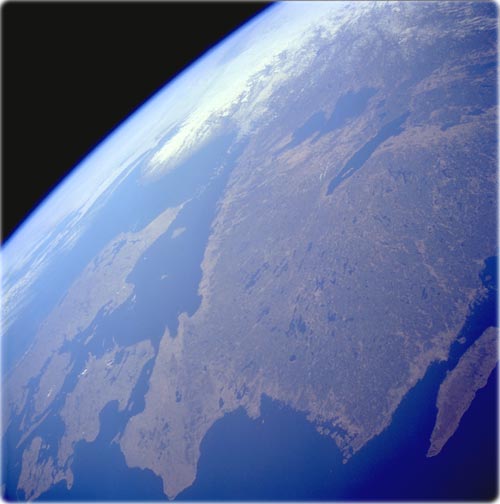 Cable car in Kitzsteinhorn, Alps, Austria (right).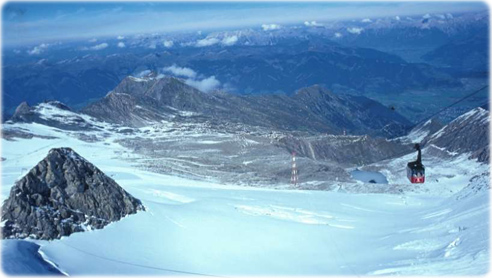 Copyright © Geographic Guide - World in Pictures. European Continent.